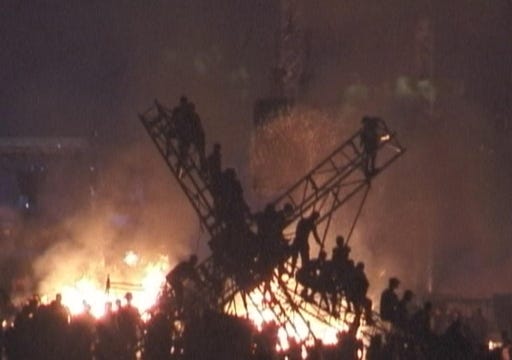 Aug 31, 2021 • 1HR 0M
Tonight we're gonna party like it's Woodstock '99, with Craig Jenkins
What we didn't learn about 1999—and American culture—from Bill Simmons' documentary on a festival train wreck
Cathartic conversations about culture in the platform age. Join journalists Emilie Friedlander and Andrea Domanick as they parse the structural forces shaping the 21st century creative economy — and how they impact us as human beings.
It's 2021, which means that us millennials are in for a parade of 20-year anniversaries of things that informed our understanding of culture and the world. Y2K. September 11th. The Strokes' Is this It?. There's even a festival happening called Just Like Heaven, which basically packs the entire history of 2000s indie music into a single day.
Part of that strange nostalgia train includes a film we haven't been able to stop texting our friends about: Woodstock '99: Peace, Love, and Rage. The first installment in a Bill Simmons-produced HBO series called Music Box, it's a polarizing new documentary about a festival 22 years ago that went horribly, horribly, off the rails.
Anyone who had their eyes on MTV at the time probably remembers what happened, but the short version is this: The organizers of the original Woodstock—the Woodstock that your Boomer parents maybe went to in 1969, on a pastoral upstate New York farm where Jimi Hendrix played a hair-splitting version of the National Anthem and beautiful long-haired hippies rolled around in the mud—decided to book a follow-up festival 30 years later.
The 400,000-person '99 edition featured a slate of nu-metal, rap-rock, and alternative acts fueling the young American id at the time, including Limp Bizkit, Korn, and Alanis Morissette. In a sharp departure from the peace-and-love ethos of the original Woodstock (or at least how the world seems to remember it), the weekend descended into a cavalcade of horrors, including rioting, vandalism, widespread dehydration, and reports of sexual assault. That was all capped off by a giant, infernal blaze on the final night after a candlelight vigil turned into an angry uprising against the festival's organizers. They had, after all, made quite a few tactical errors, including booking the festival on an asphalt-laden former military air-field and selling water at $4 a bottle during a horrendous heatwave.
All in all, the documentary makes a pretty convincing case for Woodstock '99 being one of the most egregious examples in pop music history of toxic white masculinity gone too far. But there was something that grated us about it: As riveting as it was as a Fyre Fest-style play-by-play—soundtracked by the testosterone-fueled hard rock of the era—we didn't come away with much of a sense of why young people gravitated to this music in the first place, or the larger cultural context that gave rise to it.
But then Craig Jenkins—music critic at Vulture, Pulitzer finalist, and an old colleague of ours from VICE—published a piece that pretty perfectly summed up our grievances, especially when it comes to the film's depiction of a period of music and cultural history that we lived through as teens.
It's called "We're Still Getting Woodstock '99 Wrong," and it thoughtfully nails the challenges and blindspots of how we retell and preserve cultural narratives in the era of streaming and clickbait.
"Peace, Love, and Rage is pointed in attributing blame for the carnival of horrors the weekend would entail, but light on why the dehydrated revelers wanted to go in the first place," he writes. "Woodstock 99 attempts to trace the tributaries drizzling fuel on the festival's inferno, but it's more notable for being the rare music documentary that doesn't really seem to care for much of the music it's covering."
Lucky for us, Craig was down to join us to discuss the documentary, the trainwreck that was Woodstock '99, and his own memories of what he argues is a very misunderstood chapter in musical and cultural history.
Follow Craig on Twitter.
Read more by Craig:
"The Passion of Serj Tankian: System of a Down's front man on 25 years of finding truth in political tension, even if it means within his own band."
"Failing Britney Spears: It shouldn't have taken ten years to realize the discourse about her had been a hurtful, unhealthy constant."
"Nothing Is Flattening Music Like TikTok: 'Drivers License' is telling of the kind of music this app rewards."